Musik-Tipps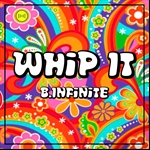 11.01.2021
B.INFINITE
Whip It´ Fresh ´n´ Funky!
Also in 2021 B.Infinite stands for finest Nu Disco. ´Whip It´ is the new groovy single of the Germany based producer. Funky beats, soulful vocals and finest Kool & the Gang attitude with contemporary House elements. Nu Dico at its best!

Not only B.Infinite likes Nu Disco. His Spotify fan base now has almost reached 50 k listeners per month.

Deutsch:

B.Infinite startet auch 2021 mit feinstem Nu Disco durch. "Whip It" heißt die neue Single und groovt an allen Ecken und Enden. Funkige Beats, soulige Vocals, feinster Kool & the Gang-Style mit zeitgemäßen House-Elementen. Nu Dico at its best!

Nicht nur B.Infinite steht auf Nu Disco. Inzwischen zählt seine Spotify-Fanbase fast 50.000 Hörer pro Monat.
BACK