Musik-Tipps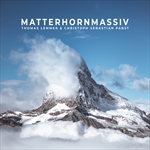 14.09.2020
THOMAS LEMMER & CHRISTOPH SEBASTIAN PABST
Matterhornmassiv
Das Matterhorn! Erhaben, massiv, manchmal in Nebel gehüllt, doch immer majestätisch steht es da für alle Ewigkeit. Dieses Bild hatten Thomas Lemmer & Christoph Sebastian Pabst im Kopf, als sie an ihrem Titel "Matterhornmassiv" arbeiteten.

Die Single "Matterhornmassiv" erscheint am 18. September 2020 beim renommierten Chillout/Ambient Label Sine Music und wird auf allen bekannten Download und Streaming Portalen erhältlich sein.

"Matterhornmassiv" ist eine Deep-House Produktion mit Neo-Klassischen Einflüssen und treibenden Analogen Synthesizer Sequenzen. Wie das klingt? Erhaben, vertraut und doch andersartig.

Mit diesem Release kündigen Thomas Lemmer & Christoph Sebastian Pabst auch ihr kommendes Konzeptalbum "Bergblick" an, welches im Oktober erwartet wird. Thomas Lemmer und Christoph Sebastian Pabst lieben es sich neu zu erfinden und schaffen es trotzdem ihrem unverwechselbaren Sound treu zu bleiben. Elektronische Musik, kreativ, organisch, echt. Das sind Thomas Lemmer & Christoph Sebastian Pabst mit ihrer neuen Single "Matterhornmassiv" aus dem kommenden Album "Bergblick".

Komm mit auf eine wunderbare Reise, schließe die Augen, und dein Urlaub beginnt in den Bergen.

------------------------------------------------------------------------

Promo Kit Download, including Cover, Banner, Labelcopy, Pressinfos and Bio:
https://my.hidrive.com/share/nexs5z1s3w

English:
The Matterhorn! Sublime, massive, sometimes shrouded in mist, but always majestic, it stands there for all eternity. This is the image Thomas Lemmer & Christoph Sebastian Pabst had in mind when they worked on their title "Matterhornmassiv".

The single "Matterhornmassiv" will be released on September 18, 2020 by the renowned Chillout/Ambient label Sine Music and will be available on all known download and streaming portals.

"Matterhornmassiv" is a Deep House production with Neo-classical influences and driving analog synthesizer sequences. How does it sound like? Sublime, familiar, and yet different.With this release, Thomas Lemmer & Christoph Sebastian Pabst also announce their upcoming concept album "Bergblick", which is expected in October.

Thomas Lemmer and Christoph Sebastian Pabst love to reinvent themselves and still manage to stay true to their distinctive sound.Electronic music, creative, organic, real. This is Thomas Lemmer & Christoph Sebastian Pabst with their new single "Matterhornmassiv" from the upcoming album "Bergblick".

Come along on a beautiful journey, close your eyes, and your vacation begins in the mountains.
BACK